Wunderkammer
Laura Copiello — voce
Paolo Calzavara — elettronica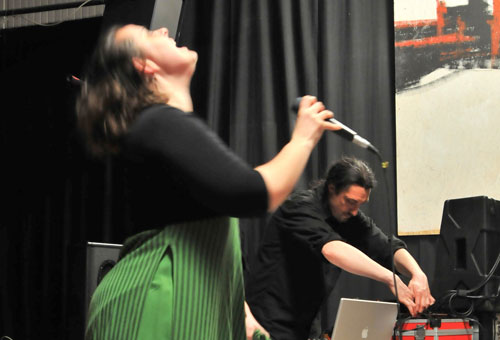 Un mondo di elementi stravaganti quello creato dal duo composto da Laura Copiello e Paolo Calzavara, che alterna e mescola la naturalità e la realtà della voce, camaleontica, imprevedibile ed esplorata verso i suoi limiti, con l'artificio e la creatività visionaria dell'elettronica, specie se modificata e preparata in modo molto personale.

Invenzioni e interpretazioni del momento tracciano segnali riconoscibili ma che disorientano, non lasciando intravvedere un orizzonte nitido o quale sentiero intraprendere.

Incontratisi in occasione del progetto Libera Via di Paolo Calzavara, i due musicisti hanno condiviso l'esperienza di Forme Sonore, progetto di Roberto Dani, e collaborato nel gruppo d'improvvisatori Clang Ensemble.

Nato in occasione della Rassegna PAPERBACKS promossa dal Centro d'Arte degli Studenti dell'Università di Padova, il progetto della coppia si esibisce per la prima volta il 21 febbraio 2014.
Laura Copiello — voice
Paolo Calzavara — electronics
A world of odd elements is the one created by the duo made up of Laura Copiello and Paolo Calzavara, which interchange and combines the simplicity and reality of a chameleonic and unpredictable voice with the ploy and the electronics'dreamer imagination especially prepared and modified in a very personal way. Moments imaginations and interpretations mark visible signals which mystify in the same time and don't allow seeing a clear horizon or which path should be followed.
The two musicians have met during the Libera Via project from Paolo Calzavara and have shared the Forme Sonore experience, project of Roberto Dani and have worked together in the Improvisators Group Clang Ensemble.
The couple's project  conceived in the occasion of the PAPERBACKS festival of the Art Center of the University in Padua will perform for the first time the 21st  of February 2014.
Laura Copiello — voix
Paolo Calzavara — électronique
C'est un monde d'éléments extravagants — d'où le nom wunderkammer, « chambre des merveilles » — celui crée par le duo de Laura Copiello et Paolo Calzavara alternant et mélangeant la naturalité et la réalité d'une voix changeante, imprévisible et expérimentant ses limites, avec l'artifice et la créativité visionnaire de l'électronique, d'autant plus qu'elle est modifiée et préparée de façon singulière et personnelle.
Les inventions et interprétations instantanées tracent des signaux reconnaissables mais déconcertants qui ne laissent pas entrevoir d'horizon net ou chemin à parcourir.
Les deux musiciens, s'étant rencontrés lors du projet Libera via, conçu par Paolo Calzavara, ont partagé l'expérience Forme Sonore, élaborée par Roberto Dani, et ont participé au groupe d'improvisateurs Clang Ensemble.
Né à l'occasion du programme PAPERBACKS promu par le « Centro d'Arte dell'Università di Padova », ce projet débutera le 21 février 2014.
Eine Welt der wunderlichen Elemente ist die des Duos Laura Copiello und Paolo Calzavara, wo die Natürlichkeit und Wirklichkeit der Stimme alterniert und gemischt wird, wandelbar ist, unberechenbar und bis an die Grenzen ausgelotet, mit dem Kunstgriff und der visionären Kreativität der Elektronik, vor allem, wenn sie modifiziert und in einer sehr persönlichen Weise aufbereitet ist.
Augenblickliche Erfindungen und Interpretationen suchen nach erkennbaren Signalen, die aber verwirren und keinen Blick auf einen klaren Horizont oder irgendeine Richtung zulassen.
Nachdem sich die beiden Musiker im Rahmen des Projekts Libera Via von Paolo Calzavara begegnet sind, haben sie die Erfahrung von "Forme Sonore" geteilt, einem Projekt von Roberto Dani, und in der Gruppe der Improvisatoren Clang Ensemble zusammengearbeitet.
Das Projekt, das anlässlich des Festivals PAPERBACKS ins Leben gerufen und durch das Zentrum für Kunst der Universität Padua gesponsert wurde, stellt sich am 21. Februar 2014 das erste Mal vor.