Tegnue
Laura Copiello _ voce e loop station
Veronica Canale _ voce e fisarmonica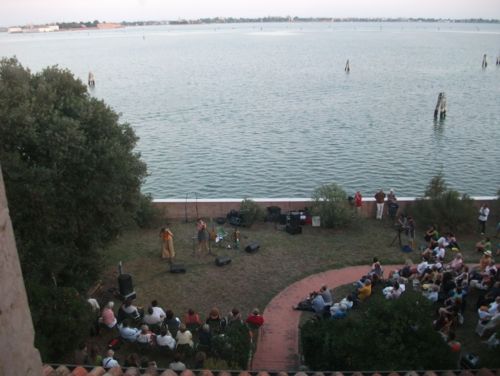 In un ambiente lagunare, di briccole, fiori di barena e gabbiani si intersecano voci e suoni verso uno spazio onirico di ninna nanne e richiami ad un passato che rivive e riverbera in quell'acqua torbida e morbida.

Se e' vero che quelle sono le nostre radici, in questo spazio che e' musica si fanno rivivere le emozioni di un luogo che sconfina fino ad arrivare in paesi lontanti richiamando voci e ritmi ancestrali.

Il duo ripropone brani d'estrazione popolare laugunare veneta e oltre.
Laura Copiello — voice and loop station
Veronica Canale — voice and accordion
In a lagoon environment with mooring dolphins, flowers of Barena and seagulls, voices and sounds interlace towards a dreamlike space of lullabies which recalls a past that lives and reverberate in this murky and accomodating water. If it is true that these are our roots, in this space which is music you can re-experience the emtions of a place which trespass and reaches far away countries recalling ancestrals voices and rhythms. The duo perform Venetian working class songs and more.
Laura Copiello — voix et pédale de boucle
Veronica Canale — voix et accordéon
Au milieu d'un décor lagunaire de duc-d'Albe, fleurs de lais et muettes, les voix et les sons s'entremêlent dans l'espace onirique des berceuses et des souvenirs d'un passé qui revit et réverbère par l'eau trouble et brumeuse.
S'il est vrai que celles-ci sont nos racines, il est aussi indéniable que dans cet espace, qui n'est pas autre chose que la musique, résonnent les émotions d'un lieu qui franchit la frontière jusqu'à arriver aux pays lointains en faisant appel à des voix et à des rythmes ancestraux.
Le duo propose des morceaux d'extraction populaire et lagunaire, de la Vénétie et bien au delà.
Im Umfeld der venezianischen Lagune, zwischen Gondelpfählen, Meerlavendel und Möwen überschneiden sich die Stimmen und Töne in einen Traum von Wiegen- und Schlafliedern und erinnern an eine Vergangenheit, die in diesem trüben und weichen Wasser wieder auflebt und widerhallt.
Wenn es wahr ist, dass das unsere Wurzeln sind, dann lassen sie in diesem Raum, der Musik ist, Emotionen wieder aufleben und Sehnsucht nach einem Ort entstehen, der sich bis in fremde Länder erstreckt und atavistische Stimmen und Rhythmen hervorruft.
Das Duo nimmt sich des Liedgutes der venezianischen Lagune und anderen Regionen an.