Amara Terra
Laura Copiello _ voce
Paolo Vianello _ pianoforte
Domenico Santaniello _  contrabbasso
Niccolo' Romanin _ batteria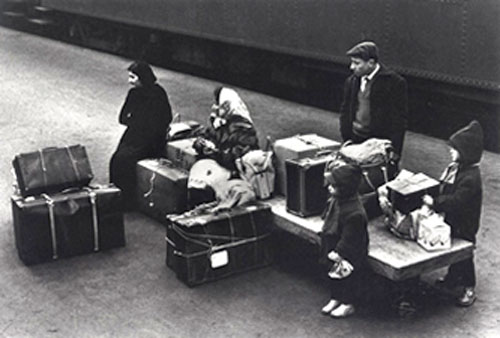 Il quartetto propone un viaggio tra le storie dei nostri migranti e tra i canti intonati quando la  tristezza per la lontananza dal paese natio o anche solo il desiderio di rivivere nella memoria i luoghi piu' cari si facevano piu' pressanti.
Canti per lo piu' di estrazione tradizionale  o di cantautorato quindi ma resi celebri da grandi artisti quali Mina, Modugno, Spadaro, per citarne alcuni e riarrangiati spesso dalle grandi orchestre degli anni sessanta e settanta. 
I brani, con arrangiamenti  dei quattro musicisti che spaziano tra sonorita' jazz, latine, folk,  attraversano quindi periodi, regioni, dialetti e umori diversi accomunati pero' in questa particolare reinterpretazione dalla volonta' di render ancora piu' vivide le sensazioni ed emozioni che posson averne spinta l'invenzione e la diffusione.
Tra i brani reinterpretati: Amara terra mia, Munasterio 'e Santa Chiara, Ma se ghe pensu, La porti un bacione a firenze..
Laura Copiello — voice
Paolo Vianello — piano
Domenico Santaniello — bass
Niccolò Romanin — drums
The quartet invites you through a journey of the Italian migrants' stories and in tune songs when the sadness for being away from the home land or only the desire of re-experience a beloved place were more strong. Songs from traditional origins or from songwriters which have gained success by big interpreters such as Mina, Modugno, Spadaro and rearranged by the big orchestras from the sixties and seventies. The four musicians through their jazz, latin and folk sounds go through different periods, regions, dialects and state of mind wanting to keep more alive the same feelings which have pushed to the idea and spread of these songs.
Laura Copiello — voix
Paolo Vianello — piano
Domenico Santaniello — contrebasse
Niccolò Romanin — batterie
Le quartet propose un voyage parmi les histoires de nos migrants et les chants modulés lorsque la tristesse pour l'éloignement du pays natal et le désir de pouvoir se souvenir des moments les plus chers se font de plus en plus urgents.
Il s'agit de chants pour la plupart tirés du répertoire traditionnel ou de la chanson d'auteur, rendus célèbres par des artistes comme Mina, Modugno, Spadaro, pour n'en citer que quelques-uns, et souvent réarrangés par les grands orchestres des années soixante et soixante-dix.
Les morceaux, arrangés par les quatre musiciens embrassant des sonorités jazz, latines et folk, traversent donc périodes, régions et dialectes différents mais rendus proches par la volonté de restituer, de façon, si possible, encore plus vigoureuse, des sensations et des émotions ayant engendré l'impulsion créative du quartet.